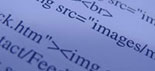 | | | |
| --- | --- | --- |
| | Development Platform | |
Our current focus is on Client-Server Applications following Event-Driven and Object-Oriented Development Guidelines with Open Systems technology concepts.
The company applies the latest Microsoft Standards using VB.Net, ASP.Net, ADO.Net, VB6, VC++, XML, ActiveX Technology etc. and is equally accomplished employing SQL-92/ODBC compliant RDBMS.
With the trend gradually shifting towards using of open-source software, we are equally adept at such technologies like Java, JSP, J2EE, PHP, etc and databases like MYSQL.