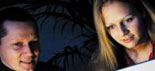 | | | |
| --- | --- | --- |
| | About Us - Management | |
Lennox Baptista
After graduating in Physics from the University of Mumbai in the summer of 1984, Lennox has worked in various positions in the IT sector.

Beginning his career with punching JCL (Job Control Language) cards and writing QUICKJOBS for an IBM 370 Main Frame computer, he initially wrote programs using the COBOL programming language. Within the IT industry, change has been the only constant and, therefore, to keep up with the times and technologies he presently works in the client-server environment. He has more than 15 years of experience in the IT environment as a software developer / consultant / manager.

Prior to his present position he worked as a freelance software consultant for several years developing client specific software. He has also been employed on several projects in Europe.

In his leisure time he likes to read and is a keen sportsman who enjoys playing tennis. His greatest passion, however, is soccer.